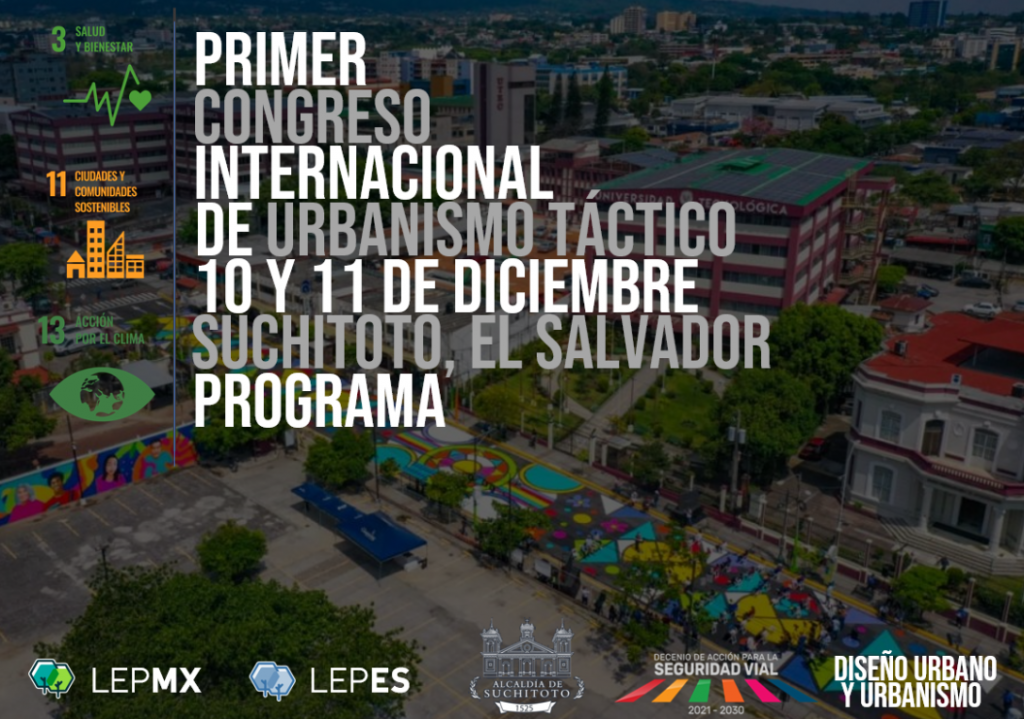 The Institute of Urban Design and Urbanism of Chile, in curation by the Laboratory of Public Space in Mexico and the Mayor's Office of Suchitoto of El Salvador, call:
To local governments, citizen agendas, non-governmental organizations, business firms and binding sectors, to the First International Congress of Tactical Urbanism, in face-to-face classroom and online modalities, to be held in Suchitoto, El Salvador on December 10 and 11, 2021.
Opened Program!
Invited countries: Colombia
México
Italia
Pakistán
Estados Unidos
Argentina
El Salvador
Chile


Registration link: https://forms.gle/d2mBwyZvhawmkMAF9
Classroom and Virtual Modality
Space is limited to 25 places in classroom mode.
Closing date: November 20th
_________________
El Instituto de Diseño Urbano y Urbanismo de Chile, en curación por el Laboratorio de Espacio Público en México y la Alcaldía de Suchitoto de El Salvador, convocan:

A gobiernos locales, agendas ciudadanas, organizaciones no gubernamentales, firmas empresariales y sectores vinculantes, al Primer Congreso Internacional de Urbanismo Táctico, en modalidades tipo presencial y en línea, a realizarse en Suchitoto, el Salvador los días 10 y 11 de diciembre del 2021.
¡Programa abierto!

Países invitados: Colombia
México
Italia
Pakistán
Estados Unidos
Argentina
El Salvador
Chile


Enlace de inscripción: https://forms.gle/d2mBwyZvhawmkMAF9
Modalidad Presencial y Virtual
Cupo limitado en modalidad presencial a 25 lugares
Cierre 20 de noviembre